Do you have dog-friendly herbs in your garden? The chances are that you use them for your cooking. However, you might not know that some are healthy herbs for dogs too.
This post may contain affiliate links: Read more here.
As a dog owner, you have a responsibility to look after their health and well-being. The last thing you want is for them to fall sick. Besides, taking good care of your furry buddy would ensure that they live a long life. 
One of the best ways to keep your pup healthy is by adding healthy herbs to your dogs diet. Herbs can help fix gastrointestinal issues in dogs and allow your them to stay in the best health. The following are some of the best healthy herbs for dogs that you can grow at home to feed your bundle of joy.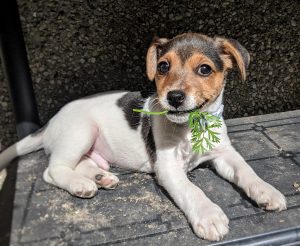 1. Using Basil for Your Dogs Health
Basil is an excellent herb that you need to include in your dog's diet. A great thing about basil is that it grows on most soil types as long as you provide plenty of water and sunlight. 
The fact is that basil is packed with antimicrobial, antioxidant, and antifungal properties. It helps ease inflammatory bowel and arthritis symptoms. All you need to do to put it to use is finely chop fresh basil and add it to dog food. 
Although there is no published research on it (at least none that I could find), some dog breeds love certain foods more than others. I had a Jackadoodle that loved to eat spinach boiled in bone broth, whereas my Terrier wouldn't even go near it. 
You, too, may have trouble feeding basil to your dog(s), but don't give up. If they don't like basil, try parsley (see number 3)! 
2. Is Dandelion Bad for Dogs?
Can dogs eat Dandelion? Although it might not exactly be an herb, it is a plant that offers health benefits to both canines and humans alike. Hence, it is a good idea to include it in your dog's diet. 
Besides, the best thing about dandelion for dogs is that it grows just about everywhere. You can even grow it in your backyard. The reason why dandelion is recommended for dogs is that it facilitates healthy digestion and is great for liver function.
Since dandelion is packed with calcium, manganese, zinc, potassium, and Vitamins A, B, C, D, K, you simply cannot go wrong with it. You can either use a powdered root or chop the leaves and add it to dog food. Make sure to thoroughly mix it as your dog might start to sneeze! 
3. Parsley – Good for Indigestion in Dogs
Parsley is both delicious and healthy for dogs. The biennial grows in most places. It requires a ton of water to grow. High in protein and fibre, parsley is an antioxidant for dogs and an antibacterial powerhouse. Add parsley to your dog's meal after cutting it. 
Another way that you can feed parsley to your dog is by brewing up tea and pouring it in the water bowl so that your buddy can drink it. If your looking for ways to cure indigestion in dogs, parsley is the herb that will fix the problem. 
4. What Are the Benefits of Rosemary for Dogs?
Another dog-friendly herb that you should consider using is rosemary. It is great for digestive issues and heart health. Although it is quite a strong herb, dogs have no trouble eating it straight out of the garden. To use rosemary in dog food, you just have to sprinkle it on and thoroughly mix it. 
Homemade natural dog treats with rosemary are the perfect healthy treat for your dog. You can add it to even simple dog biscuits. It will help keep your dog happy.
5. Sage is Full of Vitamins for a Dogs Health
Loaded with Vitamins A, E, and K, sage is beneficial for eye health, skin, and immunity. It is extremely common no matter where you might live. Sage grows from spring to fall and only dies off during winter. You can dehydrate it to use it throughout the year. Since its leaves burn easily, it has to be watered regularly. 
Once you dehydrate it, you should have no trouble mixing dry sage leaves into dog food. Otherwise, you can also boil some sage leaves in water and pour them into your dog's water bowl to drink. You can even spray the water if your dog has an allergic reaction as it is cooling and antiseptic. 
6. Is Turmeric Good for Arthritis and Stomach Problems in Dogs?
Even though turmeric might be difficult to grow, it is definitely worth growing as it is a true powerhouse. Well-draining soil is necessary for ensuring that it continues to grow. Since turmeric is found in just about every dog supplement, you need to use it. 
Known for its anti-inflammatory effects, turmeric can help ease arthritic pain. If your pup is suffering from stomach pain, you can use it to provide relief. A quarter teaspoon of turmeric paste is enough for a small dog. However, you can provide an entire teaspoon to a bigger dog. 
Dog owners who want to grow turmeric will need to dig out the bulbs once they have grown. They must clean the bulbs to get rid of the dirt. Then, the turmeric has to be sliced thin and dehydrated before it can be made into a powder. It has to be made into a turmeric paste to for dogs to get the benefits.
7. Thyme is One of the Best Healthy Herbs for Dogs
Thyme is a small plant that is just as powerful as any other herb mentioned in this post. You must dry sprigs of thyme as the leaves are small enough to dry on their own. However, you must provide dried sprigs and leaves to your dog to keep it healthy.  
Generally, thyme is suggested when a dog has messy stools. It helps ease gastrointestinal issues as it is antibacterial and good for the skin and health. As it is a natural wormer, it can even help those suffering from gingivitis. 
8. Slippery Elm for Dogs: Are There Benefits?
Lastly, slippery elm can be fed to puppies. It has magnesium, calcium, and Vitamins A, B, C, and K. It heals colitis, dysentery, diarrhea, constipation, kidneys, bowels, ulcers, and inflamed tissues. 
Slippery elm can even be used externally for treating insect bites, rashes, burns, and wounds. Similarly, it is used internally for vomiting, bowel cancer, vomiting, and coughing. 
So Are Healthy Herbs For Dogs Worth It?
Nature is your ultimate best friend. It knows you and your dog better than anyone else. This is why you need to consider using healthy herbs in your dogs diet. Each of the above healthy herbs for dogs is just what your pup needs to be fit. Therefore, is it about time that you took advantage of your home garden and get growing?
Guest Post By Arslan Hassan:
Arslan Hassan is an electrical engineer with a passion for writing, designing, and anything tech-related. His educational background in the technical field has given him the edge to write on many topics. He occasionally writes blog articles for Dynamologic Solutions.