Here at The Jack Russell HQ we have found some paw-fect companies that have amazing products for our four legged counterparts. We care about the environment, support natural food, eco friendly pet products and UK based business.
But most of all we want Jack Russells everywhere to have the best care available, so here's a few of our favourites.
Some of these are affiliate links, which helps us to keep this site running too. Win, win!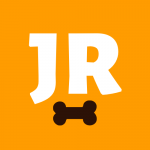 Buying a Jack Russell terrier?
While there are many reputable breeders out there, selling Jack Russell puppies is a business that can have negative effects.
Puppy farms are bad news and scams are rife.
That's why we always recommend rescue or adoption. Unfortunately there are many Jack Russells looking for their forever homes, but some never find one.
Rescue and be part of the solution not the problem.
Dogs Blog work with hundreds of shelters across the UK. You can easily search based on breed, age or rescue shelter. It's a fantastic resource and worth donating to if you can.
A simple site where owners can list pups for rehoming or adoption. Not a rescue, but this site is easier for families with children to adopt a Jack Russell.
Rescue a Jack Russell terrier
Jack Russell Terrier Rescue UK
Follow their Facebook page to keep up to date with the latest rescues and fill in a Jack Russell adoption form in online to be matched to a dog.
Based in Surrey, England but rehome throughout the UK. Specialised in all types of terriers including Jack Russell Cross, Patterdale Terriers and Border Terriers. They have a strict "On Lead Policy" for all of their rescues and are affiliated with Rescue Remedies.
A well known dog rescue with three rehoming centres in South East England – the London centre in Battersea, the Old Windsor centre in Berkshire and the Brands Hatch centre in Kent.
The largest animal welfare charity in the UK working with a number of animals and locations.
Another well known dog rescue charity with centres around the UK. Can be hard to meet their many rehoming requirements.
Butternut Box
Butternut Box is a UK-based start-up, founded by two friends.
They started the company after seeing the benefits that home-cooked food had on Dave's poorly rescue dog, Rudie.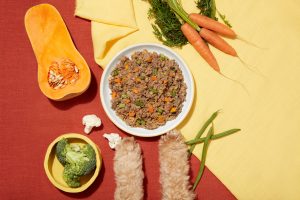 All Butternut Box meals are grain-free and free from most known allergens, making them perfect for dogs with sensitive stomachs.
The meals are made using 60% meat, 40% veg, lentils & minerals, and 0% nasties, which means they are highly digestible for adult dogs and puppies.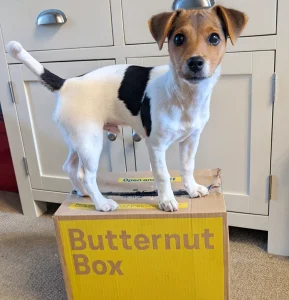 We love it so much we've partnered up with Butternut Box to get you a whopping 50% off your first box, then another 50% off your second box! No obligation to stay if your pup doesn't love it.
For dry dog food we also love…
Tails
Tails tailor make food according to your dogs needs or tastes. They have great options for sensitive dogs or dogs prone to allergies. Just enter your pups details and they will work out the daily feeding quantities, as well as the best ingredients and nutrition for your dog.
Follow the link on the picture below and use code: JACK75 for 75% off your first order 
Insurance is notoriously complicated, but this great company is changing all of that. Waggel is uncomplicated and all-inclusive plus you get access to a 24/7 video vet (very handy for new pup parents). 
The monthly cost is very affordable and could save thousands in vet bills. It's a no brainer for us.
Itch Pet
Never forget to protect your pooch again with a monthly flea treatment, delivered free. Made by experts and backed by science. Itch pet offers a personalized plan that suits you and your pup perfectly. No more stress!
Many pet store treatments are no longer effective as the bugs have become immune over time, we love this vet approved treatment as it really works. Plus it's almost impossible to forget as they remind you by email when the next treatment is due.
YuMove Dog Health Supplements
YuMove are the UK's leading provider of dog food supplements. Providing probiotics for sensitive tummies, calming tablets for anxious dogs and their best selling joint care supplements.
We've seen how these supplements can radically improve older dogs with joint problems, but younger dogs can also benefit from this range. They even have health supplements for hoomans!
Ethical Superstore
For everything else eco friendly, including cleaners for those messy pups, we love Ethical Superstore. They also sell Beco Pet products which are a must have for any eco friendly Jack Russell!  
Beco Pets provide certified ethical and sustainable products to care for your dog and our planet. 
Etsy
We also like getting our dog accessories from small UK businesses. We really don't need things to be shipped halfway around the world. Support small, local businesses rather than global online moguls. Finds loads of really cool and unique stuff for your pup on Etsy UK. Plus they offset carbon emissions from shipping!
One Voice for Animals
Did you know a growing number of animals in the UK are being abandoned and un-cared for due to the Covid crisis? Many small charities won't receive any help from the government during this time and can no longer hold fundraising events. 
But you can help.
One Voice for Animals UK is a united & co-ordinated effort by on-the-ground nationwide essential UK domestic/wildlife animal rescues & organisations. Show some love and find out more here.
Embark Passion
As an avid traveller and animal lover, Sri Lanka holds a special place in my heart. It's one of the best places in the world to see wildlife in a responsible way, check out some highlights of my travels here. One organisation doing some amazing work in Sri Lanka is Embark Passion. 
They have set up a clothing line to raise money for treating the stray dogs of Sri Lanka. "Focused not only on rescues or adoptions but also sterilizations, vaccinations, education and campaigning for improved policy with regard to animals island wide, the Embark team takes the welfare of street dogs in Sri Lanka forward against the odds."
We also recommend joining us!
Stay in the know with all things Jack Russell by signing up to the newsletter. Get updates and special discounts for these great companies and more!