There are loads of easy steps to owning an eco friendly dog. From eco friendly dog toys to eco friendly dog poop bags, the UK is full of fantastic eco-friendly dog brands to go green with your four-legged friend.
This post may contain affiliate links: Read more here.
Here we talk about some of the best eco friendly dog products on the British market and where to find them to have your very own zero waste dog.
Sustainable/ Eco friendly dog toys
Dogs toys that are built to last from natural products are the true meaning of sustainable, but also indestructible dog toys.
Look out for toys made of natural rubber, recycled plastics and hemp rope – a material that actually helps clean your dogs teeth as they play.
These products are safer and way better for the environment than your average dog toy, not sure where to look?
Beco Pets are at the forefront of eco friendly toys for dogs in the UK, find their stuff here on Ethical Superstore.
Eco friendly biodegradable dog poop bags
While there are a lot of eco friendly dog poo bags on the UK market now, not all are compostable or biodegradable and can leave behind nasty microplastics.
Certain multimillion dollar online retailers have jumped on the trend but haven't necessarily followed up with the ethics.
Make sure to check the company you are getting them from to make sure the materials are 100% eco friendly.
Paper poop bags are said to be the future, Brian Harper launched his dog-poo powered biogas street lamp on a beautiful trail in the Malvern Hills.
Local walkers use free paper dog poo bags and put it into a bin that feeds into a bio-digester, producing methane that powers the lamp.
Best eco-friendly dog beds
Eco friendly dog beds are made out of recycled plastics and eco friendly materials like hemp that are more soft and comfy. They can last for at least 2 years if cared for properly reducing waste even further.
Look for labels such as "100% organic" or recycled materials as indication of a durable and sustainable pet bed.
Eco-friendly dog bowls
Pet bowls made from recycled materials are popping up all over the place.
From recycled plastic to waste plant fibre material. But there are some concerns over plastic bowls, they can easily get chewed which causes sharp edges and of course there's BPA, something tested for in human grade plastics but not in the pet industry.
A great alternative is any food grade ceramics you have spare, that old bowl in the cupboard that no-one has used since 1998 is perfect! As long as they aren't chipped or cracked as it can harbour nasty bacteria.
Collapsible silicone bowls are great for when you're on the go, non toxic and inert, silicone is the wonder eco material.
And of course good old stainless steel. It is used in kitchens and hospitals everywhere for a reason: It's hardwearing, hygienic and lasts forever.
Get unique personalised dog bowl holders on Etsy, so they don't go wandering around the kitchen!
Eco-friendly dog collars UK
Eco dog collars are often made of recycled plastics or other non polluting manufacturing processes. They are sturdy, washable and built to last, as we all know the less you need to buy and replace things, the less impact on the environment.
Project Blu are one such company using recycled plastics, these include ocean-bound plastic, recycled clothes, recycled leather and discarded fishing nets to make eco dog collars. 
Eco-friendly dog food
One of the biggest causes of waste when being a pup parent is dog food, a lot of packaging can be unrecyclable and add to the mountains of landfill. Tinned food is the best option as it's 100% recyclable, but if you use dry food consider buying in bulk.
Just make sure to store it securely so it stays fresh and avoids waste. There are some great eco dog food brands that are using locally sourced and natural ingredients to reduce the impact on the environment.
Butternut Box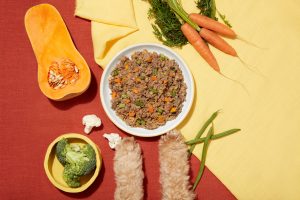 All Butternut Box meals are grain-free and free from most known allergens, making them perfect for dogs with sensitive stomachs.
The meals are made using 60% meat, 40% veg, lentils & minerals, and 0% nasties, which means they are highly digestible for adult dogs and puppies.
Each meal is perfectly portioned for your dog's needs. No need to worry if you're giving them enough.
The meals are all gently cooked – which kills the bad bacteria without losing any of the good stuff. Then frozen ready for you to store at home.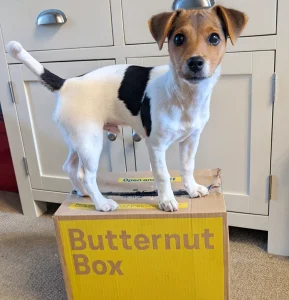 We love it so much we've partnered up with Butternut Box to get you a whopping 50% off your first box, then another 50% off your second box!
And there's no obligation to stay if your pup doesn't love it.
Make your own dog food/ Raw dog food
Another option is to make your own dog food if you can. This is a great way to save on the waste of human food and feed your dog fresh food every day.
There are several things you should avoid feeding your dog like onions and chocolate but most meat, veggies and fruit is great as a part of a balanced diet for your dog.
There are some fantastic UK dog food recipe ideas on We Cook For Dogs that are healthy and tasty for your doglet.
Walks!
That's right one of the best ways to go green with your dog is to go on more walks without the car.
Next time you need to pop to the shops or around a friends leave the car behind and take the dog instead.
Keep fit, save the planet and have a very happy dog too! You Eco Warrior, you.
Eco-friendly dog gifts
There are some fantastic eco friendly dog gifts available in the UK, whether you are treating your pup or buying for another pup parent. 
Of course if you're as totally JR obsessed as we are you'll want to share it with the world.
That's why we created our range of Jack Russell tshirts, a great gift for any JR owner, even if it's you! The best part? They're super eco friendly too, made from 100% organic cotton and printed in the UK in a renewable energy powered factory.