Need a Jack Russell feeding guide? Knowing what is the best food for Jack Russell Terriers can be tricky. There's a lot to take into consideration, that's why we've created this handy guide to the best Jack Russell food in the UK.
This post may contain affiliate links: Read more here.
Of course we can't always stop them from eating what ever they want (like socks!), but knowing what to avoid can help solve all sorts of problems, physical and behavioural.
What to feed a Jack Russell – The complete Jack Russell feeding guide UK
Wet or dry? Raw dog food or cooked? Grain free, hypoallergenic, cold pressed, vegan or vegetarian dog food.
There's a lot of choice when it comes to what to feed your dog. It's totally up to you, but there are some helpful things to know when choosing the right food for your Jack Russell Terrier.
Jack Russell Terriers are prone to skin itching and food allergies. If your dog has recurrent ear infections or skin problems, it could be related to a food allergy. Switch to a single protein diet or a natural dog food with no artificial additives or fillers.
This can also help with reducing anxiety and over activeness caused by additives in dog foods. We can all benefit from a more natural and healthy diet, so why shouldn't our dogs too?
Jack Russell Food Portions
Jack Russell terriers eat all sorts of different diets depending on their activity levels, age, and weight. But how much should you feed a Jack Russell in grams on average?
How much should you feed a Jack Russell in grams?
Anywhere between 450 to 650 calories per day should be enough to keep your Jack Russell healthy, so for a 6kg active dog that's around 120 grams per day.
Of course it totally depends on the food you are feeding and your dogs individual circumstances. Check with your vet, nutritionist, or dog food provider for more detailed guidelines.
Adult dogs may only need 2 meals per day, whereas Jack Russell puppies (up to 1-year-old) need up to 4 meals a day with a higher fat and protein content.
What to look out for in cheap dog food
Some poorer quality or cheap food for Jack Russells can have substandard ingredients or fillers that aren't important to a dogs diet. These can cause issues with digestion and toilet habits, spending a little more in the short term can have much better outcomes long term and save costly vet bills. Lookout for these ingredients in your Jack Russells diet;
Generic meat – Look for specific meat like pork, beef or duck listed high on the ingredients label. Generic labelling of "meat" can mean it's just factory leftovers, you don't know what's in it or where it came from.
E numbers – Preservatives and additives that aren't natural aren't any good for your dog's health. Check the label for natural ingredients.
Cheap fillers – Manufacturers use cereals, corn and wheat to bulk out or hold together dog food. They are impossible for your dog to digest and, though it may seem cheaper, it's just money down the toilet.
Should I use wet or dry dog food?
Dry food can help with dental hygiene whereas wet food contains protein that's easier to digest. Wet food also tends to cause less allergies as it's fresher and has fewer preservatives. Dry food is generally cheaper and easier to store, not to mention less stinky!
Really it's up to you, but remember dogs are omnivores so a balanced diet is essential. Just make sure not to give certain human foods to your dog (see below) as they can be really harmful.
What is the best brand dog food for Jack Russell Terriers in the UK?
1. Butternut Box
Butternut Box is a UK-based start-up, founded by two friends. They started the company after seeing the benefits that home-cooked food had on Dave's poorly rescue dog, Rudie.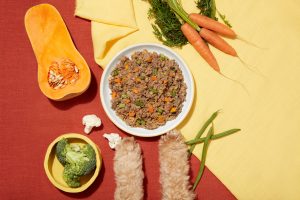 All Butternut Box meals are grain-free and free from most known allergens, making them perfect for dogs with sensitive stomachs.
The meals are made using 60% meat, 40% veg, lentils & minerals, and 0% nasties, which means they are highly digestible for adult dogs and puppies.
Each meal is perfectly portioned for your dog's needs. No need to worry if you're giving them enough.
The meals are all gently cooked – which kills the bad bacteria without losing any of the good stuff. Then frozen ready for you to store at home.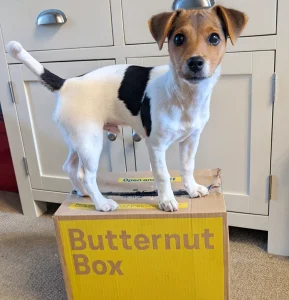 We love it so much we've partnered up with Butternut Box to get you a whopping 50% off your first box, then another 50% off your second box!
And there's no obligation to stay if your pup doesn't love it.
Best dry food for Jack Russell terriers
2. tails.com 
Don't have space in the freezer? We also love tails.com wet and dry dog food. It's made fresh to order, with natural ingredients, and delivered monthly at an affordable price.
Tails dog food is 100% tailored to each and every dog based on their breed, life stage and personal needs.
You can also pick and choose the ingredients you want in your dogs diet – each recipe is made from over a million combinations.
They are delivering millions of meals a month to thousands of dogs, and have a customer satisfaction rating of 'Excellent' on trustpilot.com.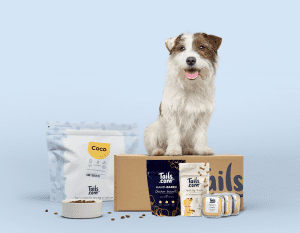 Through our unique link get 75% off your first months order (includes dry food, wet food, treats, & poo bags)
Use Code: JACK75
T&C: Valid for new customers only. Only 1 offer per household.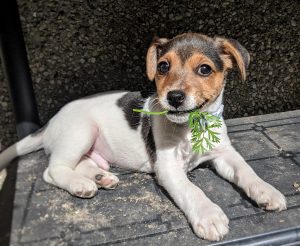 What is the best food for a Jack Russell puppy?
Puppies need food that is small and easy to chew but also high in nutrients to support their early growth. Jack Russell Terrier puppy food needs to have a high moisture content while they are switching from their mother's milk to solid food, much like babies, it takes their digestive system time to adjust to an adult diet.
Read the full guide to feeding a Jack Russell puppy here.
Best Dog Food Supplement for Jack Russells
Like us many dogs can have issues with digestion, have bouts of sickness or an upset tummy.
What should you feed you dog if they are sick?
Surprisingly chicken and rice may not always be the best idea.
The most important thing is to keep your dog hydrated, use a bone broth if they aren't interested in water.
12 hours without food is a good idea if it's down to a doggie stomach bug.
YuMove sell a range of dog food supplements that do everything from caring for your dogs joints to settling your dogs stomach. 
They use clinically proven natural ingredients and are the UK's number one veterinary joint supplement brand.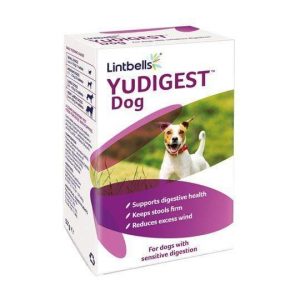 How much should a Jack Russell weigh & what to feed an overweight Jack Russell?
How much should a Jack Russell weigh? Generally speaking between 6-8kg (13 to 17 pounds) is about the healthy weight for an adult Jack Russell Terrier.
Is your dog too fat or too thin? How can you tell if your dog is overweight? What should you feed a dog on a diet?
For information and tips on dealing with weight control diets for dogs read the full guide here.
The low down on different doggie diets
Raw Dog Food Diet
Something gaining popularity in the UK is the Raw dog food diet. Nutrients which are usually lost in cooking stay intact, helping to protect your dog from conditions such as joint problems, diabetes & kidney problems.
Vets aren't keen to endorse this diet, but it is something people have been feeding dogs for generations. 
Grain free and Hypoallergenic dog food
We've talked about grain free dog food and the benefits, but what else in dog food can affect your dogs health?
Excessive moulting, skin allergies and even bad mood can all be down to a poor diet. 
Dog food intolerances and allergies are common with dogs and are not always easy to spot or find out the route cause.
By feeding your dog hypoallergenic dog food, you can help reduce the frequency and severity of any reactions they could be having. 
Vegetarian dog food
Sustainability is an important consideration in all of our lives, but even our pup food can have an impact on the planet. For a great range of organic, veggie and vegan dog food check out Ethical Superstore.
With great prices on trusted brands like Lily's Kitchen, Beco Pets and Benevo you can be sure of making the right decision when it comes to a healthy diet for your pooch.
If you need to keep your doggo busy when you're away try a Licking Pad. They are great for treating separation anxiety, hyperactivity and boredom. It's also a fantastic tool to keep your dog distracted while you groom or bathe them (especially when cutting their nails)!
Is human food safe for Jack Russells?
"So is human food safe for my Jack Russell?" Well it depends. Cooked meat and vegetables can be a great (and highly appreciated) addition to your JRs diet.
Raw meat can carry bacteria if not kept sterile, so if you wouldn't eat it probably best not to feed it to your dog. There are however some foods you should never give to your Jack Russell Terrier. See the picture below for more info.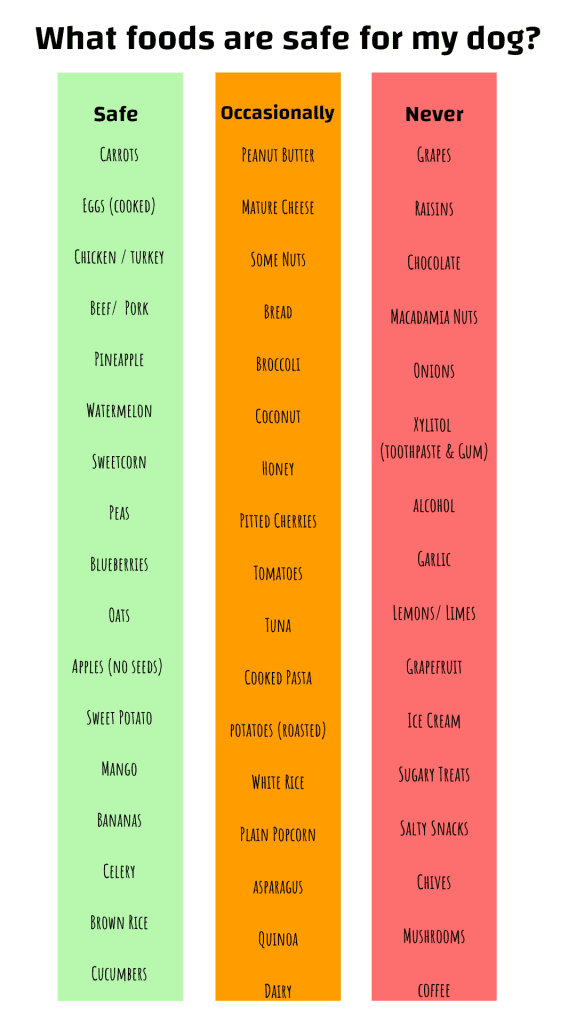 What to feed an older Jack Russell?
Like us dogs start to slow down as they get older. Being less active means they need less protein in their diet in favour of things like Omega 3's and Glucosamine to help keep joints healthy.
Dog health supplements can be a great way to support your JRs diet as they get older. But is it necessary to change your dog's diet completely? Well not really, and certainly not overnight.
The body will take in the nutrients it needs and leave out the stuff it doesn't so providing a well-balanced diet throughout your JRs adult life shouldn't be age dependent (regardless of what the stuff on the supermarket shelves say!).
Any change in diet should be gradual. Sudden changes to diet can often have negative effects and should be monitored closely with your dogs overall health.
So, what is the best dog food for Jack Russell Terriers?
Jack Russells can't control their diet so it's up to us.
Whether it's limiting their eating, stopping them from drinking out of stinky puddles or stealing human food that will cause them stomach problems or worse.
Training your Jack Russell can certainly help, but you always need to keep an eye on their diet.
Knowing the best dog food for your Jack Russell means tailoring it to their individual needs and tastes.
Age, weight, energy levels, and allergies can all have an effect on the best choice of dog food for your dog.
It's important to only give them the best natural ingredients and cut out added fillers and preservatives that can lead to health complications.
We hope this Jack Russell feeding guide has helped you and your four legged best friend.
Of course it's always best to talk to a professional, your veterinarian or an animal nutritionist about your pet's diet and any possible changes.