How much food should I feed a Jack Russell puppy? What is the best food for a Jack Russell puppy? Read this easy guide to learn all the best tips to look after your Jack Russell puppy.
This post may contain affiliate links: Read more here.
Puppies need food that is small and easy to chew but also high in nutrients to support their early growth. 
Jack Russell Terrier puppy food needs to have a high moisture content while they are switching from their mother's milk to solid food, much like babies, it takes their digestive system time to adjust to an adult diet.
A balanced diet of fresh dog safe food and biscuits or tinned is best.
What to avoid feeding a Jack Russell puppy
Some poorer quality or cheap food for Jack Russells can have substandard ingredients or fillers that aren't important to a dogs diet.
These can cause issues with digestion and toilet habits, spending a little more in the short term can have much better outcomes long term and save costly vet bills. 
Lookout for these ingredients in your Jack Russells diet;
Generic meat – Look for specific meat like pork, beef or duck listed high on the ingredients label. Generic labelling of "meat" can mean it's just factory leftovers, you don't know what's in it or where it came from.
E numbers – Preservatives and additives that aren't natural aren't any good for your dog's health. Check the label for natural ingredients.
Cheap fillers – Manufacturers use cereals, corn and wheat to bulk out or hold together dog food. They are impossible for your dog to digest and, though it may seem cheaper, it's just money down the toilet.
Jack Russell terrier puppy food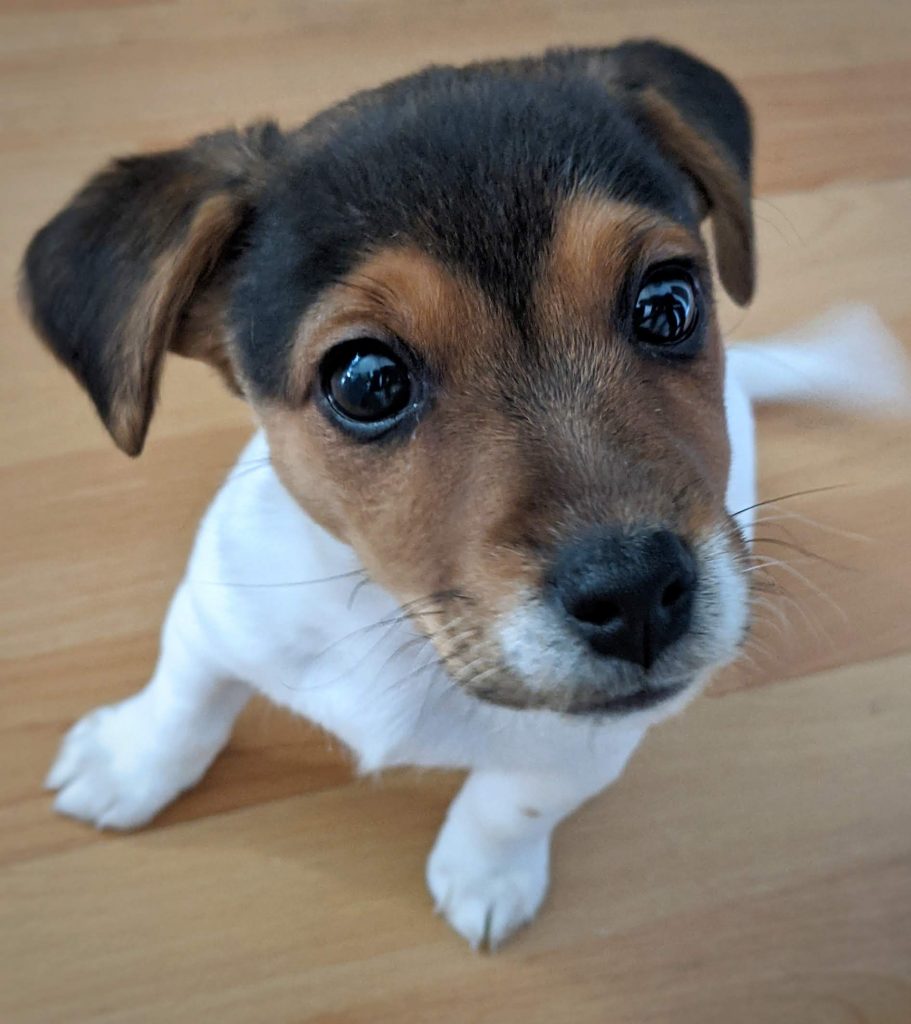 How much should I feed my 8 week old Jack Russell?
Adult dogs only need two meals per day, whereas Jack Russell puppies (up to 1-year-old) need more meals a day with a higher fat and protein content.
The recommended number of mealtimes for an 8 week old puppy is 4, spread evenly throughout the day.
This is because their stomachs are still very small and they can't eat too much at once.
How much to feed a Jack Russell puppy really depends on age, weight and activity levels so best to check with a local vet if you are unsure.
Your dog food will have a personalised feeding guide, based on age and puppy weight in grams, on the back of the pack.
How much to feed 8 week old Jack Russell in grams?
It can be hard when you first get a puppy to know that you are giving them the right amount of food.
In our opinion, its better to overfeed than under feed your pup as long as its the right food; Puppies need protein not carbohydrates.
Try to avoid giving them human treats from your plate, it isn't good for them and it will only lead to bad behaviours in the future.
They also need other vitamins and minerals which is why fruit and veg are great treats (carrots and cooked sweet potatoes are always popular super dog foods).
Avoid food that is sweet, salty or spicy as this can play havoc with your pups digestion.
And stick to unprocessed food to avoid hidden nasties like garlic and onion.
Check your pups parents for their expected adult weight.
Check the back of your dog food for puppy feeding guidelines or speak to your vet.
From 2 – 6 months split daily food into 3/4 meals spread evenly throughout the day, slowly increasing daily food amount as they get more active.
From 6 – 12 months reduce mealtimes to 2 meals per day, start decreasing meals as puppies growth slows down.
Jack Russell puppy feeding guide in grams
What is the best food for a Jack Russell puppy?
You can look out for puppy food that contains a good balance of vitamins and minerals like Calcium and Phosphorus for healthy bone growth and amino acids for muscle development.
Omega Fatty Acids are also important for the health of their skin, coat, eyes, and are important for early brain development.
Avoid supermarket brands that are packed with cereals and preservatives, all it means is more poop to clear up!
Best dog food brands in the UK
We've personally trailed these puppy foods and recommend them fully. 
Always remember when you're changing your puppies diet, to do it gradually. Mix the new food with the old food over time to give your pups belly time to adjust.
You may notice changes in your pup following a change to their diet, chat to a vet or nutritionist if you're ever concerned.
1. Butternut Box
Butternut Box is a UK-based start-up, founded by two friends. They started the company after seeing the benefits that home-cooked food had on Dave's poorly rescue dog, Rudie.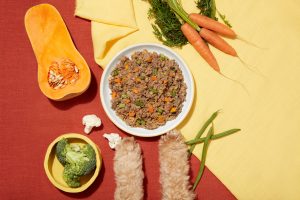 All Butternut Box meals are grain-free and free from most known allergens, making them perfect for dogs with sensitive stomachs.
The meals are made using 60% meat, 40% veg, lentils & minerals, and 0% nasties, which means they are highly digestible for adult dogs and puppies.
Each meal is perfectly portioned for your dog's needs. No need to worry if you're giving them enough.
The meals are all gently cooked – which kills the bad bacteria without losing any of the good stuff. Then frozen ready for you to store at home.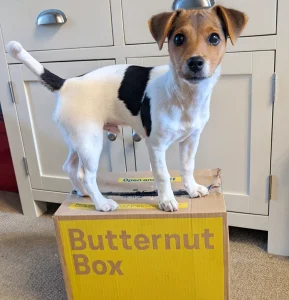 We love it so much we've partnered up with Butternut Box to get you a whopping 50% off your first box, then another 50% off your second box!
And there's no obligation to stay if your pup doesn't love it.
2. tails.com 
Don't have space in the freezer? We also love tails.com wet and dry dog food. It's made fresh to order, with natural ingredients, and delivered monthly at an affordable price.
Tails dog food is 100% tailored to each and every dog based on their breed, life stage and personal needs.
You can also pick and choose the ingredients you want in your dogs diet – each recipe is made from over a million combinations.
They are delivering millions of meals a month to thousands of dogs, and have a customer satisfaction rating of 'Excellent' on trustpilot.com.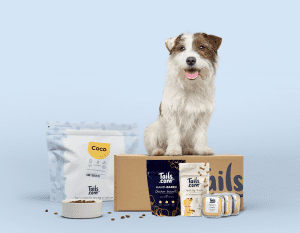 Through our unique link get 75% off your first months order (includes dry food, wet food, treats, & poo bags)
Use Code: JACK75
T&C: Valid for new customers only. Only 1 offer per household.
Best treats to feed a Jack Russell puppy
The same goes for treats, choose treats with natural ingredients that are free from fillers and preservatives.
You'll be surprised how much you can pay for well-known brands that have sub standard ingredients.
Buy quality treats in bulk and divide into sealed containers to save money and keep them fresh.
Leftovers can be great treats for pups as long as they are dog safe. Fruit and veg have a high moisture content that is important for puppies digestion.
Read our full guide to puppy teething and healthy chews here.
What human food can puppies eat?
Not all of the food that we eat is safe for dogs. Cooked meat and vegetables can be a great (and highly appreciated) addition to your JRs diet.
But raw meat can carry bacteria if not kept sterile, so if you wouldn't eat it probably best not to feed it to your dog (unless its a specifically formulated raw diet).
Many fruits can also be a great addition to your pups diet, just make sure to avoid pips (like cherry stones that contain arsenic).
There are however some foods you should never give to your Jack Russell Terrier.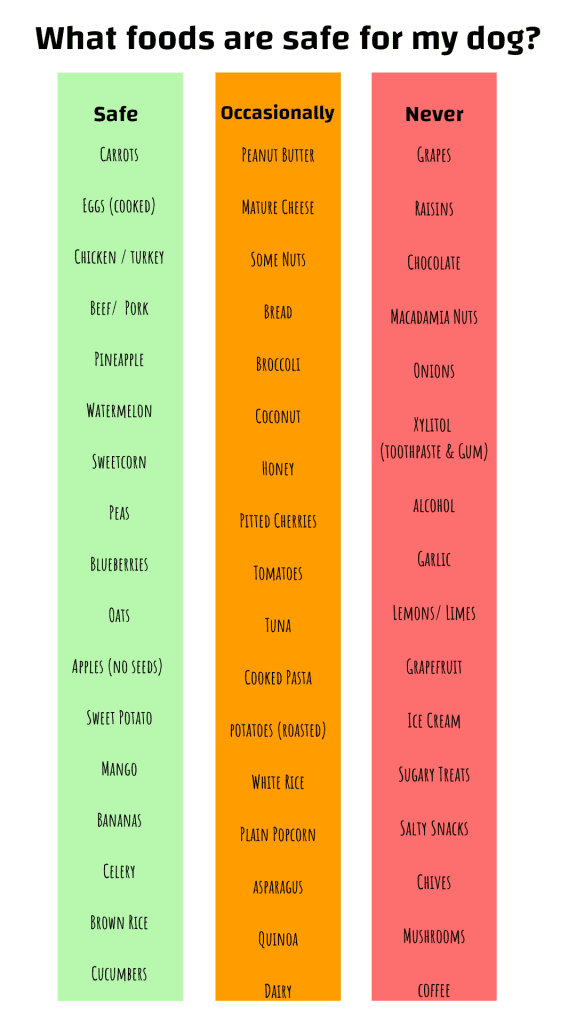 Different types of dog food diets
Raw Dog Food
Something gaining popularity in the UK is the Raw dog food diet. Nutrients which are usually lost in cooking stay intact, helping to protect your dog from conditions such as joint problems, diabetes & kidney problems.
Vets aren't keen to endorse this diet, but it is something people have been feeding dogs for generations. 
Grain free and Hypoallergenic dog food
Excessive moulting, itching, skin allergies and even bad mood can all be down to a poor diet.  Dog food intolerances and allergies are common with puppies and are not always easy to spot or find out the route cause.
By feeding your dog hypoallergenic dog food, you can help reduce the frequency and severity of any reactions they could be having. 
Vegetarian dog food in the UK
For a great range of organic, veggie and vegan dog food check out Ethical Superstore. 
With great prices on trusted brands like Lily's Kitchen, Beco Pets and Benevo you can be sure of making the right decision when it comes to a healthy diet for your pooch.
In conclusion – Best puppy food for a Jack Russell terrier
As your puppy continues to grow you will start to get an idea of how much to feed a Jack Russell puppy to keep them fit and healthy.
Get a high protein good quality dog food to start your puppy off on the right tracks, and complement their diet with healthy snacks and treats (no chips)!
Food is such an important part of your dogs health and affects so many aspects of your pups life, it can be tempting to give them a bit of your meal but make sure it is good for them too.
Don't forget to change their water daily and clean food/ drink bowls often. Let your pup try lots of new foods to avoid them becoming fussy as an adult (unlikely in Jack Russells)!
For more tips and advice check out our Jack Russell puppy section here.
Free New Dog Starter Checklist
Are you ready for a new dog? Get your free puppy starter checklist here, including what's legally required in the UK for your new dog.