If you are looking for a Butternut Box discount code and want to read reviews of Butternut Box, then you're in the right place! Butternut Box is revolutionising the world of dog food, and (spoiler alert) we are completely smitten.
This post may contain affiliate links: Read more here.
If we had the time, all loving dog owners would freshly prepare our dogs dinners ourselves. But the truth is we're not vets or nutritionists, and what we eat may not always be what's best for them.
Butternut Box meals are made in a 'human food' kitchen, not a pet food factory. They use a unique process, gently cooking meals at 90 degrees, then freezing the food in handy pouches.
This keeps the great taste and texture of the fresh ingredients without having to add any artificial preservatives or other nasties.
This process is completely different to any other pet food.
Key facts
Butternut Box is suitable for puppies, adults and senior dogs and is fantastic for a range of common health conditions such as obesity, diabetes, arthritis, pancreatitis, and skin/coat problems.
Freshly prepared
Cooked like you would at home
A complete pet food for adult dogs and puppies
Made in the UK
Grain-free
None of the nasties
Taste-tested by humans
Delivered in perfect portions
Vet approved
How does Butternut Box work?
Firstly you will need to answer a few questions and use information about your dog's lifestyle to build a dog diet plan. These include questions like "Is your dog very active?", "How many treats do you give your dog?" as well as information about your dog's gender, breed, age, and more.
Next the meals will arrive on your doorstep at your chosen time by courier, frozen and packed with ice packs. The meals are perfectly portioned for your specific dog, with the right balance of nutrients, vitamins, and minerals.
A slip in the parcel will explain how many to keep in the fridge at a time for your dogs feeding schedule. We usually get a pouch out of the freezer at dinner time and put it in the fridge overnight to defrost.
Why is Butternut Box different?
Butternut Box only ever use freshly prepared, human-grade meat and vegetables, and are so confident of this that they happily eat the meals themselves, sometimes even making radio presenters try some!
(Full disclosure; I have not yet actually tasted the meals yet, not sure Pablo would be too happy about me stealing his food! But it does smell good…)
UK standards say that dog food that's labelled with something like 'with chicken' only needs to contain a measly 4% of that protein. Pet food producers are not required to spell out the exact contents of their dishes and many just use whatever's cheapest at the time.
Butternut Box recipes are different, they are made up of 40% vegetables and lentils, as well as 60% single-source protein; which means if it says 'beef' on the pack its nothing but real beef.
It's a great service that delivers perfectly portioned pouches straight to your door. You will see from your dogs reaction when the box comes, just how much they love this food!
Fun fact: Butternut Box also do their bit to tackle food waste by using wonky veg that would otherwise be thrown away by supermarkets.
Read our guide to choosing the best dog food for a Jack Russell.
Butternut Box discount code UK
Want to try it out? Use our Butternut Box discount code to get 50 % off of your first two boxes! All you have to do is follow the link and your discount will be automatically applied to your order.
Is Butternut Box grain free and hypoallergenic?
All Butternut Box meals are grain-free and free from most known allergens, making them perfect for dogs with sensitive stomachs or skin allergies.
Read our guide to Jack Russell skin problems.
Is Butternut Box better than a raw food diet?
Nutrients-wise, Butternut Box is very similar to a raw diet, the difference is that it's gently cooked at 90 degrees – which kills any pathogens, so you don't have to worry about contamination around your home.
This makes it a great alternative to feeding raw, because it's easier and safer – especially if there are young children around.
Read our guide to foods you should never feed a dog.
Is Butternut Box good for overweight dogs?
The Chicken, Turkey and White Fish meals are less than 6% fat which can help with weight loss and health issues such as pancreatitis and diabetes.
These will be automatically recommended when you select your dogs ideal weight and added to your favourite recipes.
Read our guide to overweight Jack Russells.
Is Butternut Box good for puppies?
Butternut Box is a great start for puppies of any breed. The meals are made using 60% meat, 40% veg, lentils & minerals, and 0% nasties, which means they are highly digestible for adult dogs and puppies.
Each meal is perfectly portioned as a complete diet for dogs of all life stages and full of everything a young dogs needs to develop.
Read our full guide to choosing the best dog food for a Jack Russell puppy.
Butternut Box dog food reviews
Butternut Box is gaining a strong following, rated 'Excellent' on Trustpilot with 13,120 reviews and a TrustScore of 4.9 out of 5. They also score a whopping 93% on Allaboutdogfood.co.uk.
Customers rave about everything from the service to the recipe choices. Most state that the site is easy to use and that they can amend, delay or cancel orders quickly, while some claim it's the only food their fussy pup will eat!
Some pup owners complain about stinky breath (mainly due to the fishy options), but many mention how glossy their dogs coats are after making the switch.
Positive changes in appetite and mood are also common side affects, as well as the fresh dog food being great to use in distraction toys (like Kong's and lick mats) for separation anxiety.
How much does Butternut Box cost?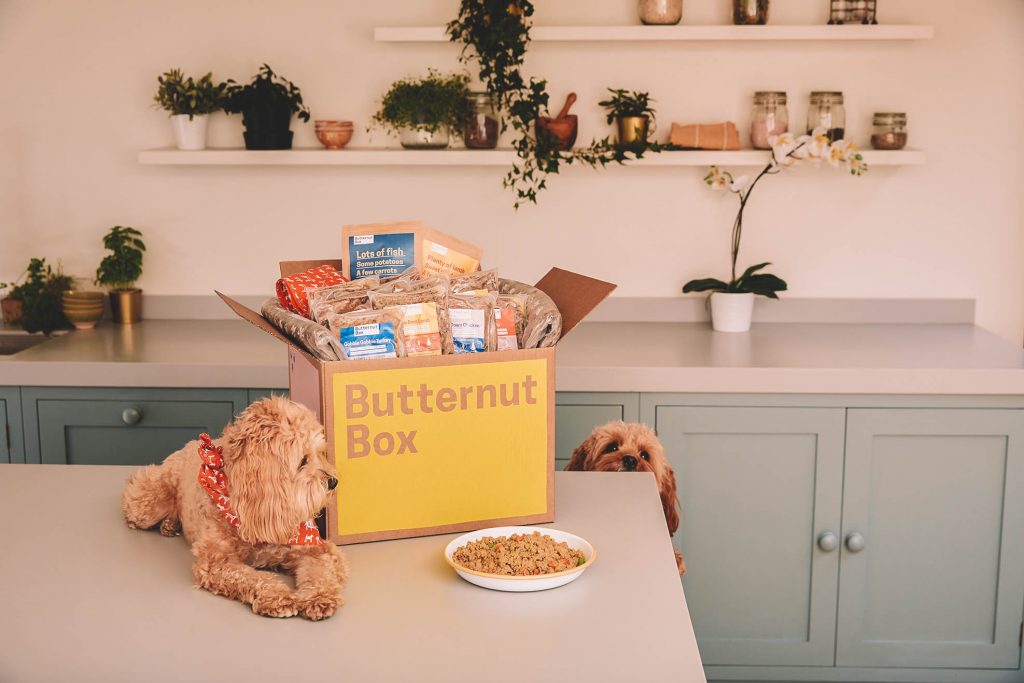 So what's the catch? Of course all of these wonderful ingredients and extra care will set you back a little more than the cheap supermarket brands that are full of – well I don't know what?!
How much is Butternut Box a month?
As each feeding plan is tailored to each dog it's really difficult to estimate the cost of Butternut Box for your dog, imagine a Doberman vs a chihuahua, or a 15 year old dogs eating habits compared to a puppies.
The easiest way to find out is to fill in your pups details on the website (using our discount link!), then you will be given a cost per day for your first box (50% off!) and an ongoing regular price (if you are happy to stay after the trial).
Don't worry, you will get both prices before you sign up so you can make an informed decision.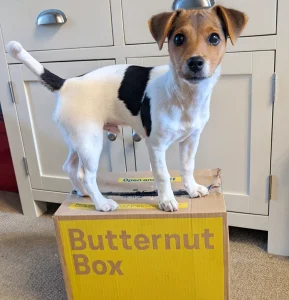 We love it so much we've partnered up with Butternut Box to get you a whopping 50% off your first box, then another 50% off your second box!
And there's no obligation to stay if your pup doesn't love it.
You can stop, pause or skip the deliveries at any time, as well as amending the recipe selection, pouch size and delivery dates.
They even send a handy reminder via email and text when the next box is due, so you have plenty of time to log in and make changes if needed.
Is Butternut Box expensive?
Butternut Box isn't the cheapest option on the market, but it isn't the dearest either. It's pretty reasonable for wet food, let alone the fact it's homemade in the UK. To give you an idea, small dog subscriptions start at around £22.40 per month.
From our experience (and thousands of other reviewers) you will notice improvements in your dog's coat, appetite, energy levels, and general wellbeing. You can't really put a price on that in our eyes.
Your first box is a trial and there's no contract or minimum term commitment. So you can cancel at anytime free of charge.
They also have mixed plans available which means you can feed Butternut Box alongside other food at home, meaning your dogs can still have home-cooked meals along with kibble or another dog food alternative.
How to store Butternut Box dog food
One thing that can cause problems for owners is the fact that this food takes up freezer space. They reckon a months supply generally takes up the space of about two loaves of bread; time to chuck out those old ice cubes filling up the freezer!
You can safely dish up the meals that you have frozen for up to 12 months from the cooked-on date (displayed on the pouch label). The meals can also be stored in the fridge for up to a week unopened, or for 2 days once opened.
Use our special Butternut Box discount for
50% off your first TWO boxes!