Getting the right harness for a Jack Russell can make walks a lot more pleasant. They are smart and curious dogs that like to explore and get into everything. So making sure they are safely restrained can be the difference between a stress free walk, and an absolute nightmare!
This post may contain affiliate links: Read more here.
In this guide we will look at what leads to use (extendable and regular), the benefits as well as dangers of collars, and the different types of Jack Russell harnesses available.
Do you need a harness for a Jack Russell terrier?
Old school owners would argue that a harness is more of a fashion accessory than an essential, but we believe they have their place on safe walks. Neck injuries are all too common, and as Jack Russell owners know, dogs can be very stubborn!
You shouldn't have to pull or drag a dog if they have been properly lead trained, nor should they pull on the lead. But harnesses are great in those instances where your pup is in danger eg. wanders into the road, is attacked by another dog, falls into water.
In these situations a harness can make it a lot easier to grab a dog and bring it to safety quickly.
Jack Russell harness guide
Here we look at a few different styles of dog harness for a Jack Russell, comparing their pros and cons, to help you choose the best harness for your pup.
Very common
Soft
Breathable
Can be personalised
Water resistant
Two points of attachment – an 'A' loop on the back and a chest-mounted ring for varied control
Reinforced rubber handle on the back to allows you to pick up your pup quickly
Reflective
Easy to put on – slips over the head
Reflective
'Anti pull'
Grab handle
Lightweight
Fits different shaped dogs
Quick drying
What size harness should you get for a Jack Russell
Generally Jack Russells come under 'small' or 'medium' size, all harnesses are adjustable to an extent so can be fit to your dogs exact measurements. Make sure there is plenty of room around their legs so they can move freely, and of course make sure to check sizing's regularly when a puppy is growing.
You will need to use a clothing tape measure to find your dogs waist size and compare it to the manufactures measurement guide.
Best harness for a Jack Russell terrier
Having tried and tested the various options we recommend the full body dog harness for a Jack Russell terrier.
The large D-Ring makes it easy to clip on a lead, and the grab handle is great in an emergency. The adjustable Velcro chest strap slips over the head, then the chest belt fastens with an easy-release clip.
The design of this harness means you don't have to fight putting your pups legs in, it just slips on much like a coat. Especially useful if your dog gets overly exited for walkies!
Jack Russell collars and leads
Jack Russell collar
Dog collars are still a legal requirement in the UK and must be worn by a dog whenever they are out of the house, even if they are on a lead with a harness. The collar must have an ID tag which displays the owner's name and contact details on and should be clearly legible.
Jack Russell collars come in all shapes and sizes. Some dogs like to 'go to ground', and explore through undergrowth or down holes in search of prey. For this reason it's important to get a collar that doesn't snag or get stuck.
We love these LED collars, they light up in the dark making your dog visible to you and others. It's a great extra layer of safety in winter.
Unfortunately there are many injuries and even deaths from collar related accidents. Best practise is to never leave a collar on your dog when unsupervised, and especially with other dogs, they only need them on while out on a walk.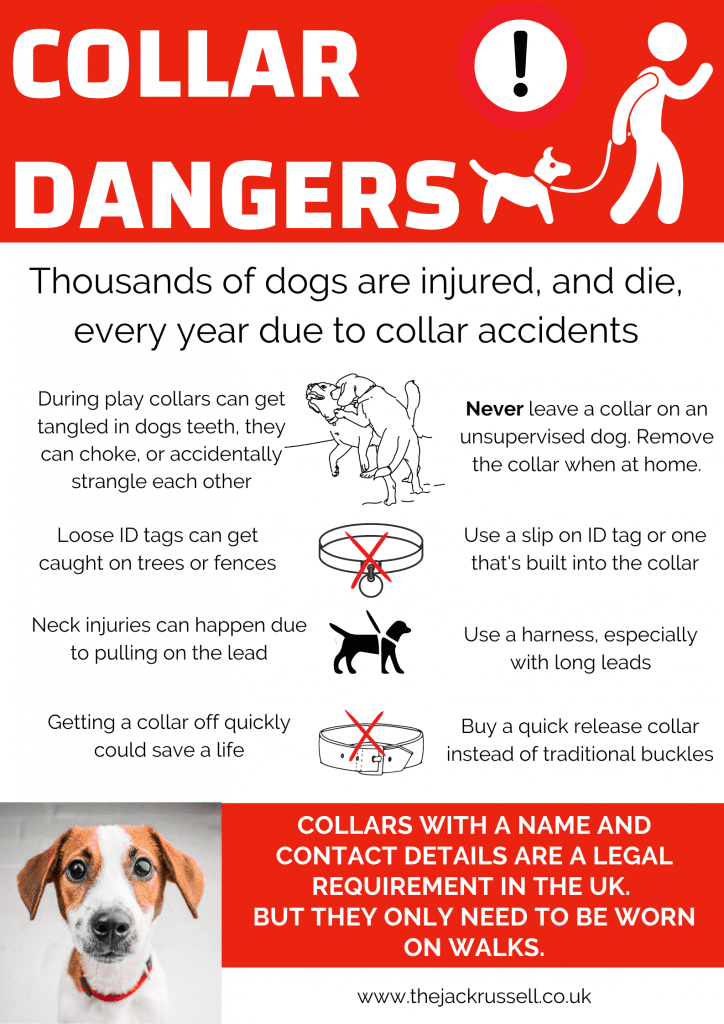 It goes without saying to never use prong collars, electric collars, or choker collars.
Though many professional dog trainers use slip leads, it's easy to train a dog without one using reward based training.
Extendable leads vs regular leads
Extendable leads are fantastic for when you can't let your dog off but want to give them the freedom to explore. But you have to be careful with them.
Many dogs have a tendency to rush off and lunge at things, and an extendable lead with a collar spells disaster! The full force of running will snap back when they reach the end of the lead, causing nasty neck injuries.
Top tip – Tie a knot about 1 metre from the end of an extendable lead, this will save you loosing the end and having to buy a whole new lead if your pup chews through the end. Simply re-tie the clip further up and repeat!
Jack Russell collar or harness?
You may be deciding if a collar or a harness is best for your pup. When trying to work out how to stop a Jack Russell pulling on the lead, many will see no-pull harnesses as a good option. But really there is no substitute for proper training.
A collar is actually much better for training a Jack Russell to walk nicely on a lead as you have a lot more control over their nose (the main input of all distractions)!
But a harness is much better for when a pup is off exploring, especially if on a long lead.
I always advise using a harness when exploring on an extendable lead, and a short leash and collar when walking to heal eg. in town.
Dog coats for Jack Russells
Another must have dog accessory for winter is a rain coat. Jack Russell coats are a great way to keep your pup warm and dry when out on a walk.
Jack Russell dog coats come in all shapes and sizes, and vary hugely in price. If your dog is active avoid a coat that's too thick as they will be too hot on a walk.
A dogs coat is naturally thermal and water resistant, all we are doing is giving them an extra layer as they're more used to sleeping on the sofa nowadays than being outside!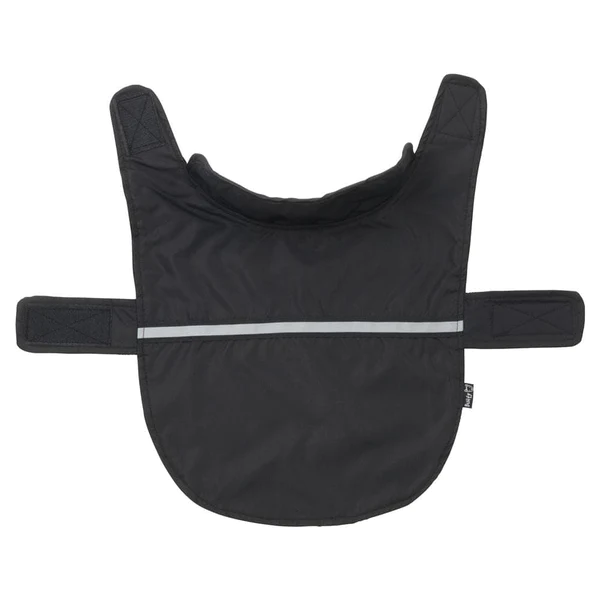 We love this fleece lined waterproof coat, it's simple and does the job perfectly.
Velcro straps are easily adjustable
Reflective band
Lightweight
Machine Washable