If you are looking for a Jack Russell rescue, you're in the right place. In this Jack Russell adoption guide, we look at some important things to consider including; where to rescue a Jack Russell from in the UK, and how to rehome them in a stress-free environment the best possible way.
This post may contain affiliate links: Read more here.
Why rescue a Jack Russell terrier
While there are many reputable breeders out there, selling Jack Russell puppies is a business that can have negative effects.
That's why we always recommend Jack Russell rescue or adoption. Unfortunately, there are many dogs looking for their forever homes, but some never find one.
Finding a Jack Russell rescue
Here we list some of the best places to find Jack Russell rescues in the UK, along with how easy or hard it is, and some top tips for rehoming a Jack Russell terrier.
All rescue dogs in the UK will come spayed or snipped, vaccinated, and microchipped. They will often also have a full health check and any behavioral issues will have been assessed.
Jack Russell Terrier Rescue UK
This dedicated rescue focuses on rehoming JRTs right across the UK. They do fantastic work, and we support them through this site via donations.
Top Tip – Follow their Facebook page to keep up to date with the latest rescues. You can also pre-fill a Jack Russell adoption form online to be matched to a dog when one becomes available.
Based in Surrey, England Terrier Rescue UK rehome throughout the UK. They specialise in all types of terriers including Jack Russell Cross, Patterdale Terriers and Border Terriers. They have a strict "On Lead Policy" for all of their rescues and are affiliated with Rescue Remedies.
You will need to fill in a homing questionnaire and be ready to take a dog – some terrier rehomings are directly from one home to another.
A well-known dog rescue with three rehoming centres in South East England – the London centre in Battersea, the Old Windsor centre in Berkshire and the Brands Hatch centre in Kent. Famous as the place that King Charles and Queen Camilla got their two Jack Russells from.
Battersea's policy is to first register on their site. You will then need to wait to be matched with a suitable dog. It can take some time as they are very careful to select the right dog for the right owner.
The largest animal welfare charity in the UK working with a number of different species of animals and locations. Search the site by breed and find a Jack Russell rescue, then fill in an application form.
Then it's time to meet the dog at the centre, if all goes well a home visit will be arranged to check your space is suitable for a dog. Then the rehoming will be arranged.
Another well-known dog rescue charity with centres around the UK. They have similar procedures to the RSPCA, but it can be hard to meet their many rehoming requirements.
Be Aware – Make sure to read the advert thoroughly as many homes will be turned down ie. if a dog is listed as not child friendly, you cannot have any young children that visit your home – even in the extended family.
Other places that can help you to rehome a dog
Dogs Blog work with hundreds of shelters across UK and Europe. You can easily search based on breed, age or rescue shelter.
Many smaller rescues and European rescues have much less strict criteria when it comes to rehoming a dog. Families with children, and people without large gardens might find it a lot easier to find a dog this way.
But keep in mind it can be harder to get support from smaller or foreign rescues with any behavioural/medical issues after rehoming a dog.
Dogs Blog a fantastic free resource for rehoming dogs and worth donating to if you can.
Top Tip – Sign up to the email newsletter to be notified of all the new dogs that are available for adoption. If you find a perfect match, apply quickly to be considered.
A simple site where owners can list pups for rehoming or adoption. There are some rescue centres posting on here, but many of the dogs are coming straight from another home.
It can be tricky to know what the dog is really like (eg. any behavioural issues), if the seller is genuine, or even if the dog is stolen. It's also important to consider that you won't have the ongoing support of a rescue.
But this site is another way for families with children and others that might be turned down elsewhere to adopt a Jack Russell – rather than buy a puppy. Make sure to be vigilant and do your research when buying a dog in this way.
We'd recommend never buying a pet through social sites like Facebook as it violates their policies.
Another adoption and rehoming site is Pets4Homes, where you can easily search by breed. Puppies and adult dogs are listed on here directly from their owners.
The website does make efforts to check sellers are genuine, and uses a safety deposit scheme to avoid common scams.
Top Tip – Make sure to visit the dogs several times to build up a good idea of the dog's health, behaviour as well as the owner's circumstances.
Rehoming a Jack Russell
Once you've found your perfect Jack Russell rescue dog, it's time to give them a loving new home!
It's an exciting time for everyone, but it's essential to put in a few ground rules so your new pup doesn't get too overwhelmed.
Remember, their whole world is changing! It's up to us to make the process go as smoothly as possible.
Preparing for their arrival
There are lots of things to consider when you are waiting for your new arrival.
Try to book some time off work so you have time to get to know your new pup when they arrive.
There may be a few disturbed nights while they are settling in too, so it's best to have some extra time to spend with them.
Rescues recommend a slip lead and/or a 3 point harness. This is because dogs can be very nervous in their new surroundings and unfortunately if they escape they won't yet know to come back to you.
Be ready with a collar with your surname, postcode, phone number, and "I'm microchipped" on the tag. This is in the event that if they do escape, you will quicky be reunited as the official owner.
Set up a space for your dogs bed in a quiet corner away from any noise in the house, this is your dogs refuge. Often dogs feel safer in a den, so a crate with a cover is perfect. Make sure that everyone knows not to disturb the dog when they are in their safe space.
If you can, ask what dog food your rescue is currently on, and try to get the same brand for the first few weeks. This will help your new dog to settle in and avoid too many changes – you can always change diets later.
How to travel home with a rescue dog
You will need a secure area in your car to pick up your rescue dog. While some may be ok to travel in a car, others might be very anxious and possibly not be able to control their bladder.
A travel crate with pee pads is a great way of keeping your dog safe in the car.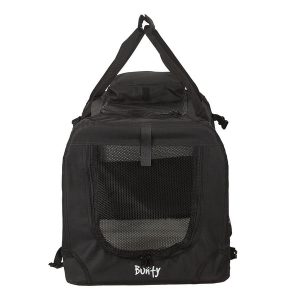 If you know that your adopted dog travels well in a car, you might be happy with a comfy travel dog bed and a dog car seat belt.
Note that seat belts should always be attached to a body harness, and never a collar as this is extremely dangerous in the event of an accident.
Registering with your vets and updating microchip details
Ideally you should register your new dog at a local vets before they arrive. You can always update details and send more information like the microchip number later.
Ask for medical records and get them checked with your local vet, they should be able to help with any queries.
Don't forget to ask for the microchip paperwork to be transferred into your name. It's a legal requirement for all dogs in the UK to be microchipped – so if they aren't microchipped alarm bells should be ringing!
Rescues will usually expect you to register your new dogs microchip details. We recommend Pet Database as they are the only completely free microchipping service in the UK.
Some microchip companies will charge you a fee every-time you want to update personal details, but with Pet Database nothing is ever charged.
You can also get these ID tags that have a QR code that links to your details, while the app lets you know everytime your pets microchip is scanned.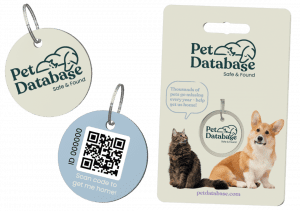 Introducing other pets and family members
The key to introducing a rescue dog to anything new is to do it slowly. If you can take blankets that smell like home to your new dog before they arrive, it can help them get used to other people and pets smells.
With unfamiliar dogs it's always best that they meet in a neutral environment (outside the home) first, as it removes any territorial behaviour from current pets.
If you can, install gates and separate areas to give your new dog the space and time to get used to the other pets in the house without physical contact.
Avoid having too many visitors in the first few weeks with your rescue dog. It can be overwhelming for them at a time when they should be relaxing into their new routine.
Insurance
Waggel Pet Insurance
Insurance is notoriously complicated, an insuring a rescue dog can have issues. But this great company is changing all of that.
Waggel is uncomplicated and all-inclusive plus you get access to a 24/7 video vet (very handy for new pup parents). 
The monthly cost is very affordable and could save thousands in vet bills. It's a no brainer for us.