Why wouldn't you want to take your best friend on holiday with you? But what are the essentials when it comes to packing a dog travel bag?
This post may contain affiliate links: Read more here.
Of course, there are everyday comforts like a bed, toys, and dog treats – but other items you might not think of automatically can be just as useful. For instance, vaccination and medical records are vital for a dog that is travelling overseas, but they are also handy for UK travel if a dog becomes unwell.
Things to pack in a dog travel bag
Travel sickness tablets for dogs, calming aids, and any other medication
Travelling can be stressful for dogs if they are not used to it. Travel sickness tablets can really help on long car journeys, and natural calming remedies like Skullcap and Valerian can help them to settle in on the first night somewhere new.
Of course, you will also need to take a supply of any regular medication and a dog first aid kit. Essentials for your dog travel bag include a tick remover, self-adhesive bandages, tweezers, and nail trimmers.
Spare collar, leash, and plenty of poop bags
It's a good idea to have a spare collar and leash with you at all times but especially when on holiday. You can guarantee the one time a lead will break is when you are nowhere near a pet store!
If you are camping, or staying somewhere with an unsecured garden, a long line lead attached to a metal stake is a great way to be able to let your dog still enjoy the outdoors safely.
Take double the poop bags you would normally use in your dog travel bag, just in case!
Read our guide to buying the best collars and leads for Jack Russell terriers.
Identification and trackers
Microchips and ID tags are a legal requirement in the UK anyway, but they are especially important when dogs are unfamiliar with their surroundings.
Make sure your microchip details are up to date. If your provider tries to charge for this service move the microchip over to Pet Database for free – contact detail updates are free for life too.
A dog tracker like Tractive or PitPat is another option for your dog travel bag to give you peace of mind when exploring somewhere new with your dog.
A dog travel bed, dog seatbelt, or travel crate
It's also a legal requirement to make sure your dog is safely secured when driving in a car. They can be quite distracting, especially if you are alone in the car.
While dog seat belts with a harness and a dog travel bed can provide some safety in the event of an accident, we think travel crates are the best solution. Attach them to a seatbelt and your pup is secure, comfy and safe, even when you open the doors (as they can't suddenly dash out into traffic).
We think the best dog crate for car travel in the UK is this foldable one from Bunty Pet Products. Not only is it far more affordable than many other dog travel crates, but it is also sturdy, secure, and easy to keep clean.
For travelling you might also consider looking at smaller bags for dogs to travel in, like a backpack, these are especially handy if using public transport (see below).
A folder with vaccination and medical records
It's important to carry a folder in your dog travel bag with your dog's medical records in them. You may need these to cross borders, as proof of vaccination for kennel stays or day-care, or in case of an emergency.
It's also always best to check the nearest vet to where you are staying and note down the address. Especially useful if you don't have a phone signal and you urgently need veterinary care.
If travelling to Europe with your dog they will need a recent Rabies vaccine and an Animal Health Certificate (AHC).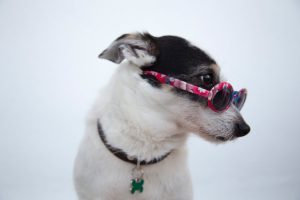 Read our full guide to travelling with a dog in Europe here.
Food, a travel water bottle, bowls, treats, and chews
It's best to keep as many things as consistent as possible when going on holiday with your dog. Before you go out and buy a new travel food bowl, it might be better to take the one they are used to. The same goes for food, treats, chews, and anything else they would usually have at home.
The number one thing we would recommend for hot weather is a travel water bottle. It's an essential item for your dog travel bag. It's so important to make sure that your dog is always hydrated.
Public dog bowls aren't always available and when they are they can spread nasty diseases. Buy an eco-friendly dog water bottle like this one, and just refill it every day.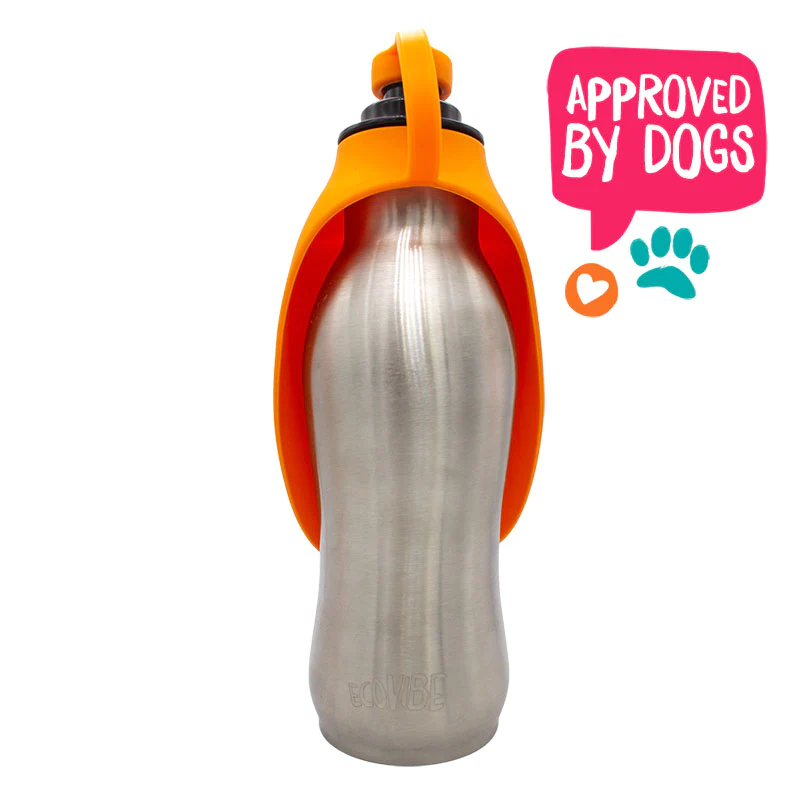 A comfy bed and a few favourite toys
Try to keep as many things the same as possible to keep your dog relaxed on holiday. Take their favourite bed and best toys that smell like home in your dog travel bag – sure they may get a little dirty but they can always be washed. A pet blanket is a great way of getting them to settle in the pub.
Dog shampoo and a towel
Even if you aren't planning to go away for long, there's always a risk of a roll in something stinky. A towel and some strong-smelling shampoo in your dog travel bag can make or break the experience of going on holiday with your dog in the UK.
Weather considerations
It's common sense to make accommodations for the weather. If it's a little chilly don't forget to pack a coat in your dog travel bag for your pup. If it's hot make sure the air-con is working in the car, and that the place you are staying has plenty of spaces to keep cool in.
Other things to consider when taking a dog on holiday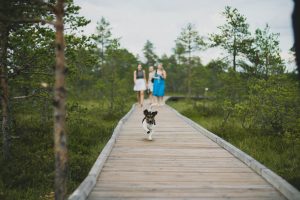 There are so many options when it comes to dog-friendly accommodation in the UK and abroad nowadays. You can easily find somewhere for you and your pooch to stay in comfortably.
Many businesses are the same. Cafes, attractions, shops, and even banks have started letting dogs enter with their owners in the UK. Read our post on the best dog-friendly places to visit in the UK.
Can a dog travel on a train in the UK?
Yes! Each passenger can take two dogs or other small domestic animals for free – read the full rules for dog-friendly trains in the UK here.
Dogs are also allowed on the London Underground but must be able to be carried up the escalators for safety reasons.
Both the Eurotunnel and most major ferries departing the UK allow dogs on board. The Eurotunnel has won awards for its dog-friendly travel service and makes the process super easy.
Can dogs travel on buses in the UK?
Most public buses in the UK will allow dogs on board. It is ultimately up to the driver's discretion though, so it's worth keeping in mind that dangerous breeds could be refused entry.
Coaches are a bit different and it's best to check with the company before travel as many don't let dogs on board for long journeys.
Can dogs travel on planes in the UK?
Most of the major budget airlines, such as Ryanair, EasyJet and Jet2, don't allow dogs on their planes at all unless they are service dogs.
But some airlines let pets fly in the hold or in the cabin. Pet-friendly airlines that fly from the UK include British Airways, Emirates, and Qantas, but they often only allow dogs to travel in the hold. The main 3 airlines that allow pets in the cabin are KLM, Lufthansa, and TUI.