How to choose the best dog chews
What are the best dog chews available to buy in the UK? It can be a little overwhelming knowing what's best for our dogs. We assume if pet shops are selling dog chews that they must be ok, but that's not always the case.
This post may contain affiliate links: Read more here.
If you're wondering if dog bones are safe, if rawhide is bad for dogs, and if there are any natural dog chew alternatives, then this article is for you!
Are dog chews dangerous?
Bones, yak sticks and deer antlers, though natural and popular, are too hard for many dogs teeth. Over time they can damage the enamel and even break down into sharp parts that may damage their internal organs.
Speak to your vet about the damage they can cause:
The thumbnail test — if the toy doesn't "give" a little bit when you press it with your thumbnail, then it's too hard for your dog and could break and crack their teeth.

Dr. Beth Turner – Vet – How to choose safe dog chews
1. Are dog bones safe?
Giving a dog bone to your pup may be one of the most recognisable ways to reward them, but are dog bones actually safe?
While many dogs may encounter no issues, even shop brought bones can splinter and cause internal issues sometimes. But the main issue is the lasting damage that they can have on teeth.
Many dogs end up with dental problems as a result of chewing on hard bones, and we all know uncooked bones are a definite no.
2. Yak chews
While yak chews can seem like an ideal natural dog treat to give your dog, they too are hard and difficult to digest.
3. Antler dog chews
Antlers are another eco friendly long lasting dog chew that provide hours of entertainment. But they too may cause damage, and should never be left if your dog is unattended as they can splinter and smaller parts may be swallowed.
4. Plastic chew toys
It's best to avoid using plastic chew toys (Nylabones etc). They are not only bad for the environment, but they also break up and get swallowed by our pups. These tiny plastic parts can sometimes be quite sharp and will cause blockages and possibly even internal damage.
5. Rawhide chews
A staple of pet shops for many years, rawhide chews have always been popular with dog owners. But once you realise what they actually are and how dangerous they can be, it's safe to say you wouldn't want to give it to your best friend.
Essentially a waste product from the leather industry, rawhide is made from the inner layer of the skin of a cow. Rawhide is first dried and then treated with various nasty chemicals to make it last on the shelves.
The digestive enzymes of a dogs stomach can't break down this material, this can lead to obstructions in the gut or bowel, choking, and further digestive issues.
How to tell if a dog chew is safe?
Hardness – If the chew is harder than the teeth, there's a probability of causing tooth injuries.
Obstruction risk in the gastrointestinal tract – The risk of chunks that are indigestible coming off and being swallowed.
Choking hazard – Same as above, but in this case the chucks get lodged in the trachea or oesophagus and don't make it to the stomach or intestines.
Taken from – Potential Dangers of Popular Dog Chews – preventivevet.com.
The best long lasting natural chew toys for dogs
Olive branches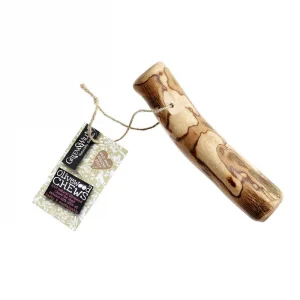 Olive branches are without doubt our favourite chew toy. Natural, healthy and they don't splinter (unlike regular sticks). These long lasting dog chew toys keep dogs busy for weeks and outlast many other toys.
Kongs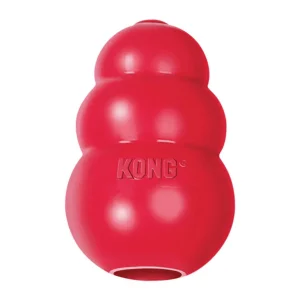 Kong's are another one of the best dog chew toys to buy in the UK. Made with durable rubber, they can be stuffed with food to provide brain stimulation and long lasting entertainment.
They can also be frozen for an even longer lasting puzzle. Kong's are great for crate training as they are durable and have no small parts that can cause choking.
Rope toys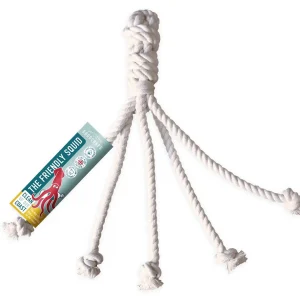 Rope toys are really great for building a healthy playful relationship with your dog. While many soft toys will be shredded in an instant, these toys are more durable and will last a lot longer.
Most pups love to tug and chase, and rope toys are a great outlet for this natural behaviour (plus it's better than chasing after them when they've stolen your socks)!
Choose natural rope or organic cotton, some even come with rings made of natural rubber. Another bonus is that most dog rope toys actually help to clean their teeth too.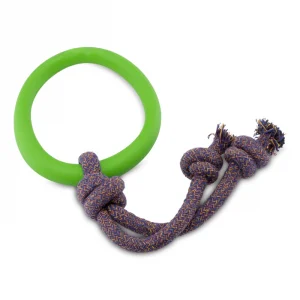 They should still be put away when not in use as loose strands can cause problems if ingested.
The best edible chew toys for dogs
For more of a short term chew fix, edible chews are a great way to keep dogs busy and offer a healthy reward. Look for 100% natural meat or veg, with no added fillers or preservatives.
1. Dental chews for dogs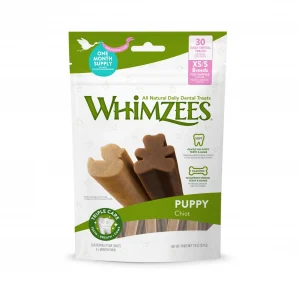 Whimzees natural dental chews for dogs are available almost everywhere. They are made with non-GMO ingredients and no artificial colours, flavours, preservatives, gluten, or meat.
They're perfect for dogs with food allergies or sensitivities. Dog dental chews aren't a replacement for brushing teeth, but they can help to reduce plaque build up.
2. Collagen dog chews
For long lasting dog chews for crate training or dealing with separation anxiety, try chews made of collagen. With just one ingredient, they are great chews for dogs with food allergies or stomach sensitivities.
3. Rawhide free dog chews
We also love Smart Bones rawhide free dog chews made from chicken and an outer layer of vegetables. They come in different sizes so are suitable for many different dog breeds.
These dog chews replace chemical-ridden rawhide with a recipe that is wheat-free, vitamin and mineral enriched, extra low in fat and easy to digest.
Plus they're good for teeth; the abrasive effect naturally helps to clean dogs' teeth and keeps them healthy.
4. Lick mats for dogs
While not technically a chew toy, we also love dog lick mats. They promote slow feeding, and are great option when looking for how to keep your dog busy for longer while you are doing other things.
Spread on some wet food or dog safe peanut butter as a treat, and it will keep them entertained for ages.
Butternut Box is ideal for stuffing into kongs or spreading onto lick mats, read our review of Butternut Box to find out why we use it and to snag a cheeky discount off your first two boxes!